February 14, 2017 at 3:57 pm
#1733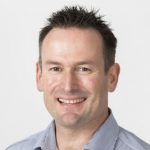 Rob Clarke
Keymaster
Hi Vicki,
Great question and totally doable. Here is an overview of the steps:
Firstly, this requires you altering the Form so that you capture the Team Leader email address, that way you can specify the Team Leader email as a merge field and then that person can also be emailed the request (thus notifying him/her).
Next you need to create a field for the staff member to select their team leader. I would use a Drop Down field and put the email of each Team Leader in this so there can be no mistake with emails being mis-typed.
You could chance the existing field for 'Team' to 'Team Leader' if you wanted as that would identify the team they are in anyway… but you may want long term data by team (eg. how much leave does X team have each term/year?)… so perhaps create a completely new field.
Once you create the new field in the Form, you'll notice that the Sheet has a new column which corresponds to this.
Once the field is created, you next need to go into the Autocrat Add-on (Add-ons > Autocrat > Open…) and edit it by clicking the pencil tool…
Click through the steps until you get to step 8: 'Share docs & send emails'.
This is where you match the column headings in your Sheet to the Autocrat Add-on.
Add the merge field (which is now in your Sheet) for <<Team Leader>> in as a 'cc' or 'bcc' email depending on your preference.
You may also opt to put your Principal's email in the 'cc' field too. It is always better to use [email protected]… as that is the enduring email address for that role.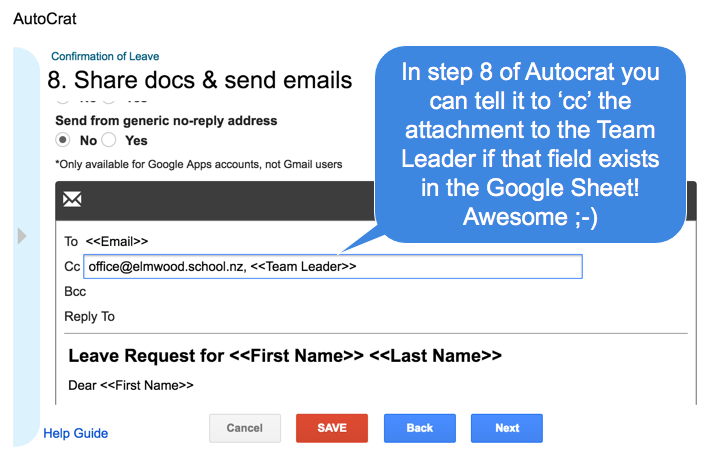 A bit about notifications…
There are a number of ways to be notified of new submissions.
This technique creates a merged PDF or shared document to send to these people you specify.
You can delete the email '[email protected]…' if you wish and turn on notifications from within the Sheet itself. This gives an anonymous notification that 'someone filled in your Form in your email – it may be better to keep your email in the 'cc' field so you'll see exactly who you are dealing with when you are monitoring leave requests.
If you opt to be notified that 'someone filled in the form' then in your Sheet go to: Tools > Notification Rules…
Let me know how you get on, you've done really well with this as your first Form, especially given this is a more complex use case Vicki!
Reference (if you really want to knock yourself out): Autocrat User Guide