May 31, 2017 at 1:39 pm
#2365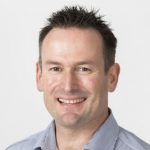 Rob Clarke
Keymaster
Hi Kaylene,
Welcome to the community, it's great to have you join us!
From your screen shot it appears you are using the Drive app software to synchronise files into Google Drive – am I correct in this?

If so, then you will need to log into the web-based version of Google Drive, then share the folder to the staff you wish to have access to this.
It would be worth checking out this forum post in the 'Getting Started with Google Apps' forum which takes you through sharing.
Let me know if this helps or if you need more support.
Rob